Testimonials
Richard Butcher
David, just wanted to let you know how much we enjoyed our trip a few weeks ago. We are already looking forward to next year. As much as I have fished with you, I continue to be amazed at your extensive knowledge of the White River and brown trout. The White River at Bull Shoals Dam is an ever changing environment, yet it seems no matter what the water conditions and weather are, you always seem to have a plan that produces quality fish, big browns in particular. The 28 ½", 7lb. fish that my guest caught this year, was an experience none of us will ever forget. Rest assured we will keep coming back, as that fish, along with all the nice browns we caught, were released to fight another day. We will stay in touch through your website, (I love big fish updates), until we come up there to fish with you again next winter, unless of course I can break away from work long enough to get another trip in before then. Any day on that river is always good for my soul. Thanks again!
Rick ButcherAustin, Texas
Terry Orman, Sr.
If you are looking for a great place to spend a comfortable, leisurely world class weekend trout fishing trip, or a full blown business planning meeting, The Fisherman's Lodge and Capps Guide Service is the real deal! Not only is the Lodge a great place for a family outing, but it also has everything you need for a great business meeting! From the comfortable guest rooms, to the beautiful great room, to the absolutely fabulous home cooked meals….everything is just simply outstanding! David and Ginny Capps are the most accommodating host's you'll find anywhere right down to the wireless internet connection!
And talk about world class fishing! Capps Guide Service offers exceptional trout fishing trips on the beautiful White River below Bull Shoals Dam. For the past 20 years my family and I have been fishing with David on the White River. You'll find David to be the most conscientious guide in the business, and a gentleman that you and your family would really enjoy spending time with! In fact, in 2011 I traveled to Alaska to have the opportunity to fly fish for salmon with David on the world famous Alagnak River in the Katmai National Forest. David is equally as great a guide in Alaska as he is on the White…..top drawer in every way! Contact The Fisherman's Lodge for the fishing trip of a lifetime……you'll not be disappointed!
Terry Orman, Sr.Fayettville, AR
Richard C. Roe
"I have had the privilege of stay in fishing lodges from the Arctic circle to Central America and from Hawaii to Florida. I have seen good fishing lodges, average fishing lodges and not so good fishing lodges. The Fisherman's Lodge in Cotter, Arkansas is the best of what I've had the pleasure to stay. I'm sure that whether you are in a small party or a large one, the accommodations at the Fisherman's Lodge will suit you well. And, as a businessman, if your needs be ample meeting space for your guests with accommodations for audio and visual equipment, I can tell you that the Fisherman's Lodge will work for you too. Finally, David Capps has worked with me for over twenty years in terms of coordinating lodging, meal and fishing needs both for small and large groups and in terms of being able to set up a first class trip, I consider David to be the best!"
Richard C. RoeLakeview, AR and Scottsdale, AZ
Daniel W. Koehler
"I have been on the river with David catching fish when other boats were skunked. David Capps' local knowledge of the White River makes all the difference. In addition, David is a soft-spoken gentleman, entrepreneur and great outdoorsman. Fish with David Capps and you will be a lifelong fan like I am!"
Daniel W. Koehler
President
Noosphere Publishing, Inc.Little Rock, AR
Terry Yamauchi, M.D.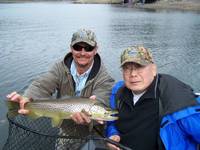 "The White River is one of the premiere trout streams in the country. The scenery is beautiful, the fishing is unsurpassed, and David Capps is extremely knowledgeable."
Terry Yamauchi, M.D.Little Rock, AR
William Carty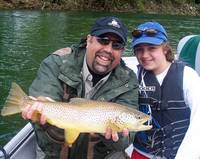 I have been lucky enough to fish with David Capps and his guides for almost fifteen years. They are friendly, professional, and able to put fish in the boat under the most adverse conditions. I would recommend Capps' Guide Service to anyone looking for a fishing trip of a lifetime with family, friends, and business associates. If your looking to catch "the big one", Capps is your man.
William CartyMemphis, TN
B. Parker
"My wife and I have on numerous occasions fished with David Capps and his great group of guides. We always get fish and generally plenty of them. I am definitely not a fisherman. I rarely go fishing because I rarely ever catch fish.( I must have bad vibes or something.) But with Dave and his group we always get fish.
For those with business interests The Fisherman's Lodge makes a great place to bring your clients to reward them and create new business. The fish outings we have been associated with, were with our customers we invited in for fishing, and continuing education seminars. Our accommodations have been perfect for giving seminars, socializing, camaraderie that develops into lifelong friendships, and of course fishing. Every meal has a good ol' country five star rating, in the glory of the great outdoors. Our business always increased within just a few weeks after one of these trips. I just can't say enough about all the great times we have had with David on the white river. There has never been a negative experience by any of our groups on any outing with David Capps."
B. ParkerNorth Dakota
Ray & Carole Wynn
"Our trips to the White River are usually for three days of fishing for four to ten people, which we do three times a year. Since 1993 we have been using Capps Guide Service and in no way would we ever consider using anyone else. We have used other guide services for both fresh and saltwater trips, none of which have come close to providing the level of service as those managed by David. Be it David, or one of his associates, we always have a great time and leave with the feeling that they are dedicated to making our trips as successful and enjoyable as possible. We have been fortunate enough to catch many lunker browns, which are always released in hopes that others will get to experience the thrill of catching one of them. We never hesitate a second to recommend David, even to our most demanding friends or acquaintances."
Ray & Carole WynnFestus, MO
Todd Colvin
Just wanted to thank you again for another memorable "Arkansas Happening". I say "Happening", as it was much more than simply a wonderful fishing trip for all involved. The Lodge is terrific… the meals were outstanding … the selection by you as to "where" to fish was great… the scenery was beautiful… the guiding "assistance" (Help for those in our group that are experienced anglers plus the "hand holding" of the "rookies") was fabulous… and the results (catching a "ton" total… plus all four species of Trout) was a treat for everyone. The "Price/Value" of your package was excellent. However, the attention to "details" and personal dedication to seeing that everyone enjoys themselves… by you and the rest of team is what sets you above "all the rest".
Todd ColvinAustin, Texas
Dick Christman
"If you want a pleasant, professional, productive, friendly guided fishing trip, then use Capps Guide Service. David Capps and his associates can give you helpful tips on all aspects of fishing, regardless of your experience level. You will be a better lunker trout fisherman if you allow them to teach you. My group always release the big browns so they can be caught another day. You will !!!! catch fish when your guide is from Capps Guide Service. I have never had a day without catching fish, and I have used David's services for 10 years. The only thing you do is fish."
Dick ChristmanBallwin, MO.
Joe French
I really love to catch fish and the White River is my favorite place to be. I have been fishing there for about ten years now and you and your guides have been the most productive in all situations. What I like most though is the way you treat my son Evan, he always catches plenty of fish and he really enjoys visiting with you.
Joe French,Memphis, TN