FAQ
Why choose The Fisherman's Lodge?
Referencing what many of our repeat customers tell us; it won't be the 30-plus trout you catch every day, or the home-cooked meals, or the comfort of a fresh and modern lodge, or even the surprisingly affordable price to add to this long list of pleasures. When we ask our repeat guests why they come back and visit us trip after trip? They say it's because of our genuine old-fashioned Southern Hospitality that we try and serve every minute of their stay.
What kind of events can the Lodge accommodate?
We have hosted Corporate Team meetings, Business Training seminars, Large Group fishing trips, Family Reunions, Weddings or any large group that desires a large modern facility for a planned function in our area.
Our Lodge is the perfect place to bring your business clients or employees for an incentive outing to show your appreciation for their business or hard work.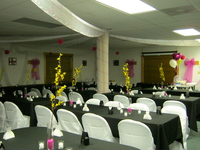 How many people does the Lodge sleep?
30 people with sleeping one person in each available bed – 3 people per room. For couples or family groups that do not mind doubling up we can sleep up 41 total. Please contact us for more information.
Our Lodge has a total of 22 convetional beds in 7 bedrooms (3 beds in each room)which include 6 queen, 8 full, 4 twin, and 2 sets of bunk beds. If needed another 8 people can sleep in our conference room on twin size Areo beds. This works well with large family reunions staying at our Lodge.
How many people can the resort entertain?
We have had groups at our Lodge that have numbered over 100 people. While our Lodge can only sleep up to 30 people we will be happy to make arrangements with other lodging facilities close to our Lodge to accomadate additional people over 30 for your stay.
These groups with over 30 people typically will hold their function at our Lodge including meetings, meals, and or a fishing trip. After the days activities and planned meals are finished the members of the group that are not staying the night at our Lodge take a short drive to the additional lodging facilities we have arranged for the group.
Can the lodge take care of our food or do we bring our own?
Self Cook or we will be happy to provide your meals!
Either way and it is the respective groups choice. If requested, we can provide food service including full breakfasts, lunches at the Lodge, shore lunches on the river bank and dinners at the Lodge, take a look at our menu here.
Our Lodge has a fully equipped kitchen complete with electric stove, sinks and dish washer. When we provide food service all of the clean up needed is taken care of by us! If the group provides their own food service they are responsible for all clean up of the cooking areas used as well as dishes and utensils. We also have a large indirect heat charcoal BBQ grill on the back deck for a groups use if doing a self cook.
How many people can the lodge take out fishing?
Although most of our groups are between 20 and 22 people, with adequate notice we can handle groups of up to 100 people fishing or 50 guide boats with 2 customers per boat. With 3 customers per boat we can accommodate up to 150 people fishing.
Can we bring our pets with us?
Even though we also have pets that we love, we have a no pet policy at our Lodge.
Can we rent fishing gear?
On our spin fishing trips we provide the rods, reels, and line and tackle at no extra charge when fishing with us. We also provide fly rods and reels along with leader, tippit, and flys needed for your trip when fly fishing.
What should we bring with us?
Self Cook or we will be happy to provide your meals!
Personal items you need to bring: camera, polorized sunglasses, sunscreen, chap stick, fishing hat or ball cap, rain gear, tooth brush etc. and clothing appropriate for the season.
Temperatures can be quite cool on the river in the mornings even in the summer months, so be sure to bring a light jacket along during this time.
What is the weather typically like?
January – February can be quite cold, it is winter with below freezing temps. for the mornings start being the norm and sometimes continuing through out the day. Cold temps. rain and snow are quite possible when fishing this time of year. It is good to dress in layers, under layers of polor fleece are recommended, warm coveralls, goar tex rain gear, gloves or fingerless mittens and water proof winter foot wear are a must. It is also a good idea to bring packetts of hot hands to place inside your gloves while fishing.
March – April Spring is on its way, normally the first 3 weeks of March can mirror the cold seen in February. Some years, winter will extend through the end of March. Plan on cold temperatures in the morning with a slight warm up in the afternoon through the month of March. April can be cool in the mornings usually starting the day at around 40* to 50* warming up to 60* by the afternoon. Spring is here! *Water temperture of the river is around 55* so it can feel 10* cooler on the water*
May – June Spring is in full swing now with morning temps. usually coming in at 55* to 60* warming up to 70* – 75* by the afternoon through the end of the month. June – Summer is here and your days starting temp. is usually 70* to 75* and can finish uo at 80* to 85* under normal conditions. *Water temperture of the river is around 55* so it can feel 10* cooler on the water*
July – August Mornings usually start between 70* to 80**Water temperture of the river is around 55* so it can feel 10* cooler on the water* Shorts and light shirts are the norm this time of year, the cooling effect of the 55* water now starts to feel like airconditoning when boating on the river!
September – October Summer has started to yeild to Fall, September mornings temps. normally start at 65* to 70* and can get to 80* to 85* by the afternoon. *Water temperture of the river is around 55* so it can feel 10* cooler on the water* October mornings are usually cool 65* to 70* warming up in the afternoon, expect 10* cooler temps after mid October, you will also see the Fall colors in the trees starting to turn this time of year. The Fall colors of the trees usuall peak during the third week of October.
November – December Mornings are getting cooler with normal temps. starting at 40* to 45* and warming up to 50* to 55* through mid November. After that we are usually back in a winter weather pattern with mornings starting at 30* to 40* warming up to 45* to 50*
How does The White River water generation schedule work?
Water level in the White River is controlled by Bull Shoals Dam. Lake levels as well as electric power generation needs of the electric grid dictate the amount of water released daily through the dam into the river. Bull Shoals Dam is a Corps of Engineers controlled dam with Flood Control, Power Generation and Recreation being the priorities and in that order.
The generation schedule is subject to change as the needs for electric power supplied to the grid from the dam can fluctuate throughout the day. There are 8 generators at the dam, at 100 % volume release per generator the level in the river can raise about 1.5 feet per generator depending on were on the river you are at regarding the rivers width.
Some morning we start the day with no generation at the dam and finish with 8 generators running at 100 % flow. Our guides know how to catch fish on every condition from zero generation to super high water.